Catalogue Collections
At Laburnum House, we have put together a selection of catalogue collections for schools and nurseries alike to offer a range of books which children will love to read. We have grouped similarly themed books with a similar reading level, into groups so that you can save yourself time and money by buying a selection of titles rather than individually choosing books from our website. Many of our thousands of customers prefer to buy our books this way as they are guaranteed to get a varied and interesting platter of both fictional and non-fictional literature.
Our range of catalogue collections include works by various authors and from different publishers, but they will all be of the same comprehension levels and a few of the books in each collection will contain similar themes and morals. We use the colour band system which many of our schools also use so you can order a selection of books at the reading level you require simply by finding the colour band you desire.
Make re-stocking your library or classroom a breeze as we have done all the hard work for you and sourced all the titles you may need.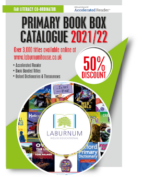 Showing 1–25 of 92 results